"If there is one book in Hinduism that is the most popular in the world today, then it would only be the Gita. An English philosopher once wrote that if an illiterate cowherd of India can write such a book, then from time immemorial until the present, there has never been any other book written like it. When this is the capability of an illiterate, just imagine the capabilities of India's educated … "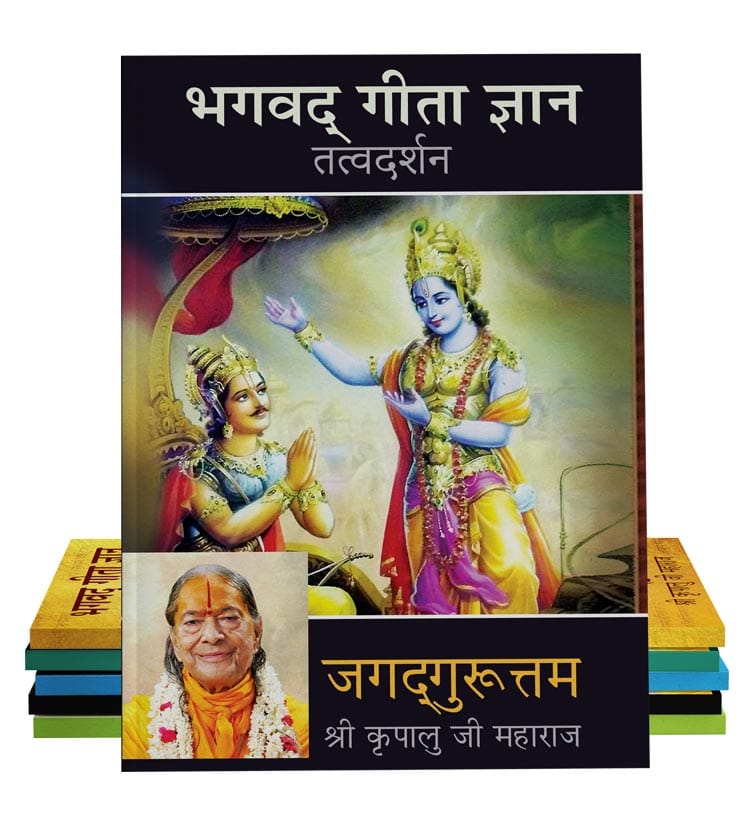 Bhagavad Gita Jnana - Tattvadarshan
India has always been the spiritual capital of the world, with the Vedas as her greatest treasure. The essence of the Vedas is the Upanishads, and the essence of the Upanishads is the Bhagavad Gita, the most well-known spiritual book in the world today.
The teachings of the Gita are truly universal, transcending boundaries imposed by culture, time, caste, and religion, and with secularism inspiring modern India, the Bhagavad Gita has been declared a national heritage.
Jagadguruttam Shri Kripalu Ji Maharaj gave many elucidatory discourses using simple language that reveal how to apply the principles of the Gita in our daily life. One such discourse, given by Kripalu Ji Maharaj at the Gita Hall, Mumbai, on 17 September 1980, is the content of this publication.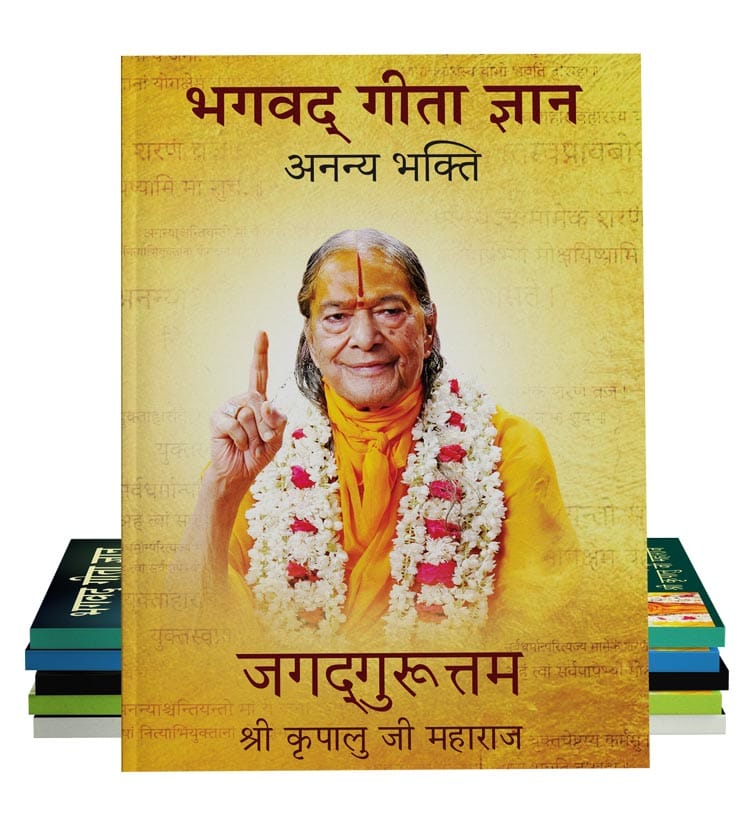 Bhagavad Gita Jnana - Ananya Bhakti
A spiritual aspirant should be exclusively devoted to his guru, chosen spiritual path, and presiding deity. In other words, his life should be confined to these three alone. There is no need to go anywhere else. Neither hear, nor think, know, or do anything beyond this. If something does arise contrary to this, then be indifferent to it, that is, neither like nor dislike it...
Exclusive devotion and the Lord's proclamation that He will take full responsibility for surrendered souls and provide them with whatever they lack and protect whatever they have complement each other. The Lord issues this decree for His selfless devotees only. Most people, however, do not even know the importance of being exclusive in their devotion, and so they derive very little benefit even after years of practice.
Jagadguruttam Shri Kripalu Ji Maharaj placed great emphasis on exclusive devotion, that is, leaving all forms of support, a spiritual aspirant must take shelter in God and Guru. In other words, instead of putting our trust in others, we must trust in the grace of God and Guru alone. To explain this spiritual principle to the people of Braj, Shri Krishna enacted His pastime of lifting Mount Govardhan, His aim being to teach the lesson of exclusiveness to the residents of Braj.
This book comprises excerpts from discourses given by Kripalu Ji Maharaj related to exclusive devotion. All inquisitive seekers who imbibe these sentiments in their devotional practice will soon experience the intended benefit, as their spiritual practice progresses at a far greater pace.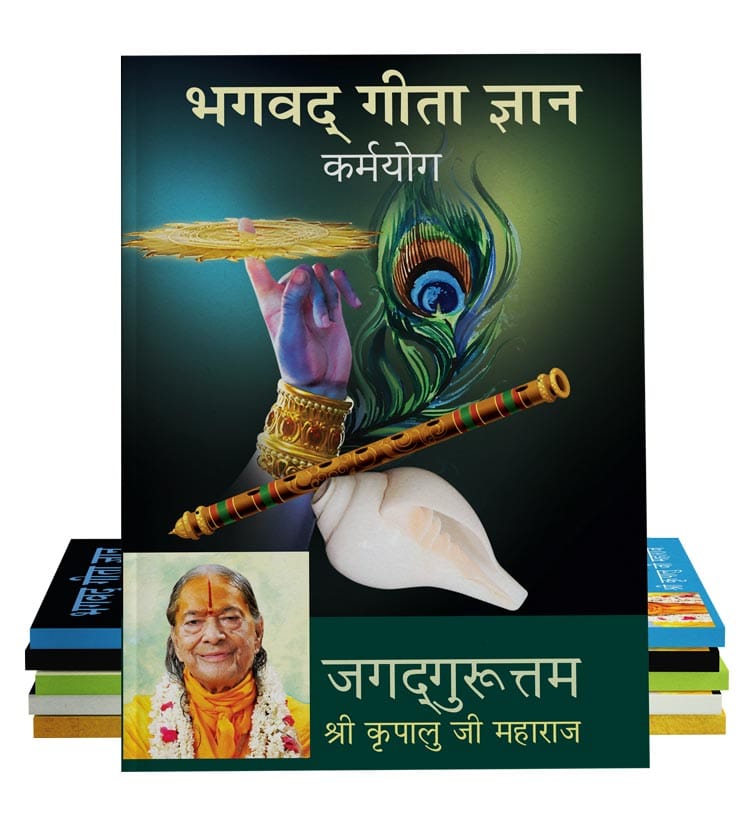 Bhagavad Gita Jnana - Karmayoga
You all have been Indra, the king of celestials, uncountable times but none of you remember. What do you think instead? Oh, if only I could become a millionaire, then everything would be fine. When you did not attain even an iota of happiness becoming the emperor of the celestial abodes, under whom even Kuber, the celestial god of wealth, operates, then why are you planning on becoming a millionaire? This is your misconception, and something entirely different. You will have to discover this for yourself in the Gita. So, let us extract a few more gems from this ocean of spiritual knowledge.
How to practice karma yoga in our daily life is the essence of the Bhagavad Gita and the subject of this publication. Jagadguruttam Shri Kripalu Ji Maharaj not only elaborated on this topic using very simple language, but practically showed us how to implement it through the way he lived his life in the world.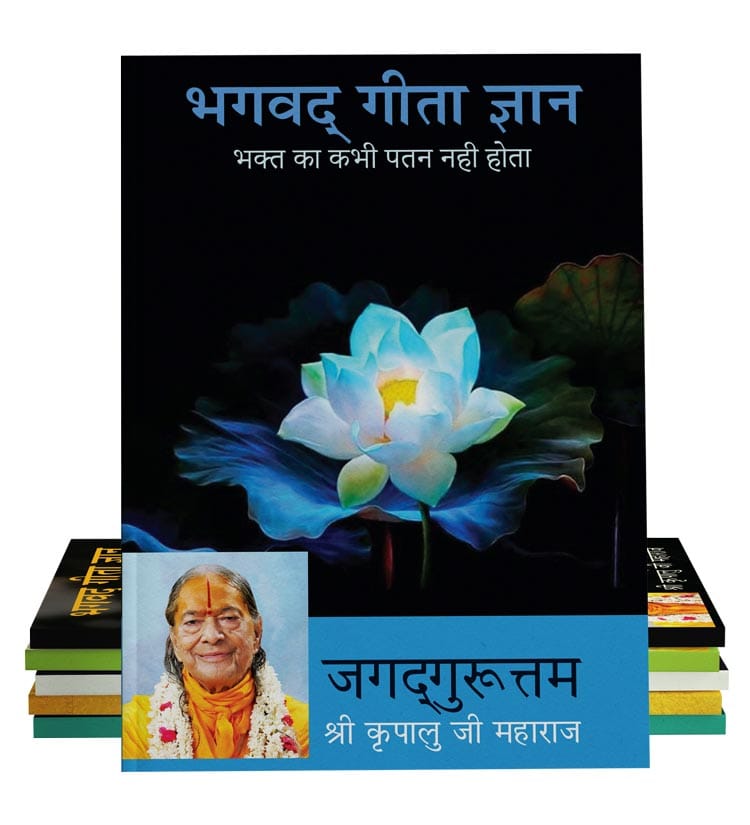 Bhagavad Gita Jnana - Bhakt Ka Kabhi Patan Nahin Hota
Shri Krishna proclaims, "Whatever you have not received, material or spiritual, I will provide, and whatever you have, both physical and spiritual, I will protect." In the Gita, the Lord assures that He will do this for the one whose mind is constantly absorbed in Him.
(Gita 9.22 and 9.31)
"My devotee never falls."
Excerpts from discourses given by Jagadguruttam Shri Kripalu Ji elucidating this esoteric principle have been compiled in this book. Taking refuge in the Lord and engaging yourself in His devotion exclusively is the essence of the Gita. Kripalu Ji Maharaj illumines us using such simple language that even a newcomer to spirituality will understand it and be greater benefited by it.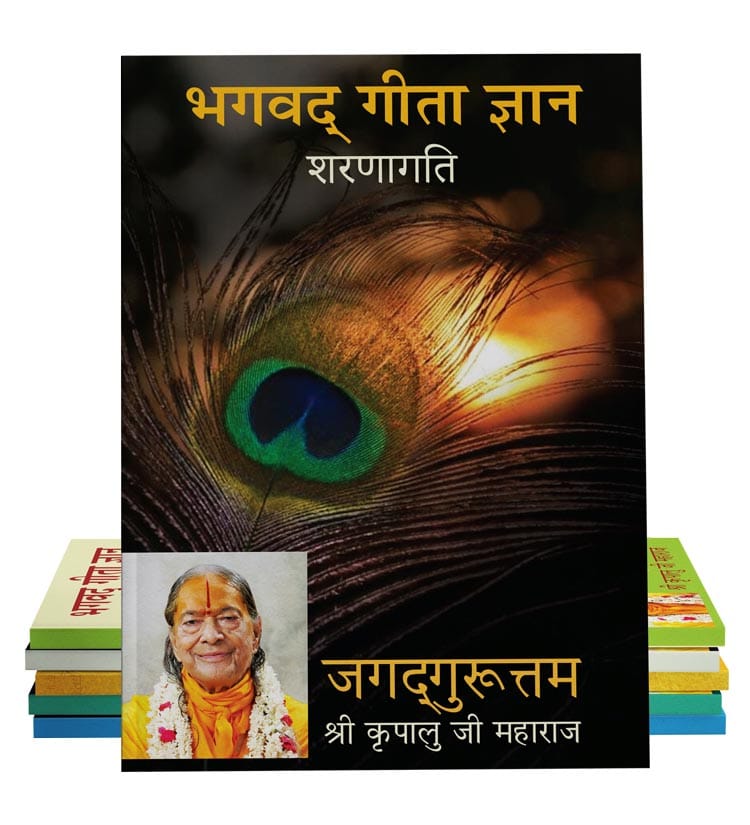 Bhagavad Gita Jnana - Sharanagati
From a spiritual perspective, knowledge is considered superior to action and devotion superior to knowledge, and the essence of the topmost form of devotion is surrender. Without surrender there will be no devotion, and without devotion there will be no knowledge, and without knowledge there will be no action. Surrender is therefore the very basis of devotion. Just think, without surrender, the beginning, middle, and end of the Gita would have all depended upon Shri Krishna's surrender.
The teaching of the Gita from the very outset, throughout, and until the end is that we must take refuge in God alone. In other words, leaving aside all forms of religion and irreligion by taking refuge in Shri Krishna, and engaging in constant contemplation and remembrance of Him, this is true devotion. From time immemorial we have committed the same mistake; we worship God physically while our mind remains attached to the world.
Jagadguruttam Shri Kripalu Ji Maharaj expounds this irrefutable principle of the Gita in many of his discourses and literary works. This book is a compilation of selected excerpts from some of those discourses. It is essential for spiritual aspirants to understand that only by surrendering exclusively to Shri Krishna will the goal of eternal, ever increasing happiness be attained. There is no other way.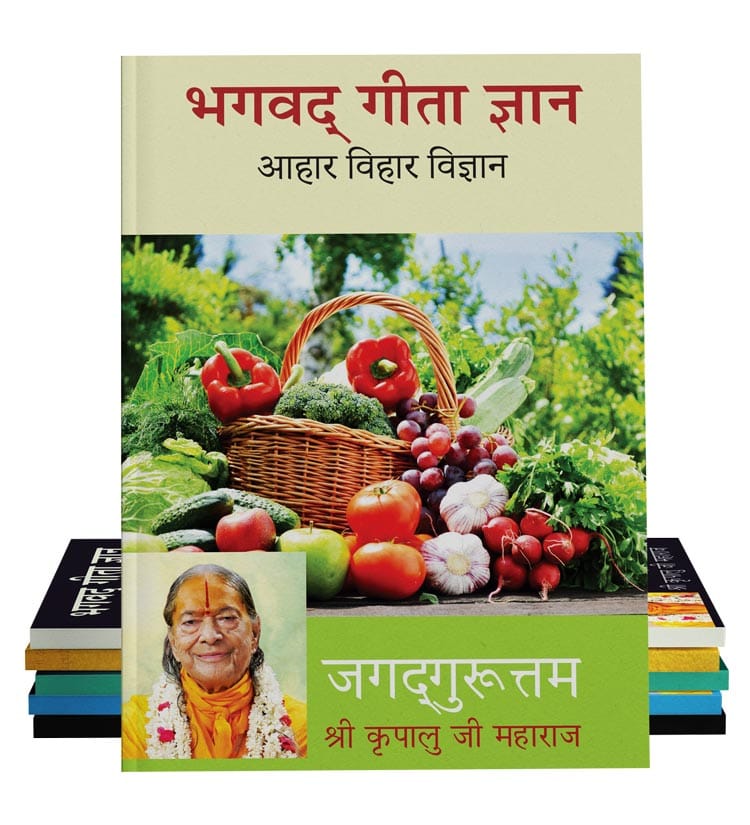 Bhagavad Gita Jnana - Ahar Vihar Vijnana
natyashnatastu yogosti na chaikantamanashnah (Gita 6.16)
There are rules everywhere in this world and everyone is bound to follow them; scientific as well as spiritual. Regardless of whether a person is a karmayogi, a jnanayogi, or a bhaktiyogi, he will have to follow these rules and they are equally applicable to all. For example, consume the right foods, behave in the proper manner, sleep at the appropriate time, and wake up at the right time too. You must follow these simple rules as well. If you sleep too much, you will invite sickness and if you sleep too little you will invite sickness. Similarly, if you eat too much you will become sick and if you do not eat enough, you will become sick.
Whether it is for your material upliftment or your spiritual upliftment, having a healthy body is essential and the first requirement for both. This is known as sharimadyam, that is, heal the body first and then you can progress. If we ignore the science of moderation and allow some pain or the other to inevitably come, when you try to focus your mind on God or guru, your mind will rush to your body. Instead of contemplating on God and guru, you will be contemplating on your aches and pains. In this way, even the most devout spiritual aspirant will not be able to meditate on his beloved Lord.
Excerpts of several discourses by Jagadguruttam Shri Kripalu Ji Maharaj have been compiled in this book elaborating on this principle of the Bhagavad Gita. In a very clear and comprehensible way, Kripalu Ji Maharaj explains from a spiritual perspective why it is necessary to maintain a healthy body. Without giving the body all the necessary vitamins and proteins, it will soon become ill, and your illness will overshadow any attempt thereafter to meditate on God.
Buy Now