Chaitra Navratri brings a season of New Beginnings
By Radha Govind Samiti

•

Apr 01, 2022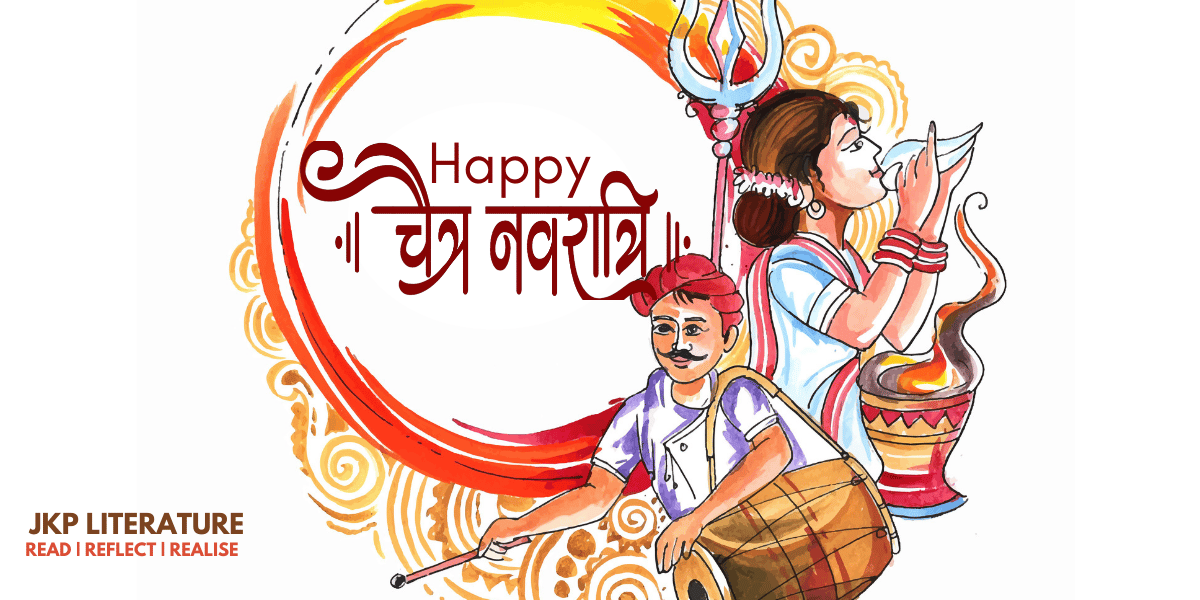 After a brief gap post Holi, we are back into a celebration mode of Hindu New Year, Vikram Samvat 2079, with the onset of chaitra navratris, where these divine nine days conclude with the birth of Prabhu Shri Ram. Our spiritual scientists, the rishis and munis, blended the threads of human 'spirit' with colours of devotional 'rituals' in such a way that every fabric of human activity became 'spiritual'. They ensured that humans stay connected to the almighty by all means, yen-ken-prakaren, through mansa-vacha-karmana, their minds-words-actions. Consequently, every day and moment remained devotional in a sadhak's life. And that is what Shri Maharaj Ji also emphasises in his Radha Govind Geet,
साँस खीँचो 'रा' कहु गोविंद राधे।
साँस छोड़ो 'धे' का अभ्यास करा दे॥ ६५९७॥
O mind, practice chanting the name of Radhe with every breath. While inhaling say ra and while exhaling say dhe.
खाते पीते चलते फिरते गोविंद राधे।
राधे नाम जनि भूलो पल छिन आधे॥ ६५९८॥
In the course of daily activities like eating, walking, etc. never forget the divine name of Shri Radha even for half a moment.
In his rasik-literature and discourses where Jagadguruttam Shri Kripalu Ji Maharaj has given a vivid description of Sri Radha-Krishna, at the same time he has abundantly sung the glories of Raghukul Shiromani Deenbandhu Prabhu Shri Ram. Elucidating the personality of Shri Ram from the scriptures, he has clearly rendered the unity or non-discrimination of both Rama and Krishna. Acharya Shri often visited Shringverpur, Chitrakoot, Ayodhya, Nashik, Rameshwaram - all places with devotees, conducting sankirtans and retreat programs. His regular morning sessions usually began with chantings of the 'Hare Ram' mahamantra, while some special sessions continued this recitation non-stop, for months. The divine deities of both Shri Sitaram and Shri Radhakrishna have been established at all the three JKP temples, Prem Mandir at Shri Vrindavan dham, Kirti Mandir at Shri Barsana dham and Bhakti Mandir at Shri Bhakti dham, Mangarh .
The festival of Ram Navami is also celebrated with the same gaiety as Shri Krishna Janmashtami and Shri Radhashtami. With the same devotion, dedication and determination the Presidents of Jagadguru Kripalu Parishat, the three daughters of Shri Maharaj Ji, are taking forward his spiritual legacy. Let us all now call upon Prabhu Shri Ram with all our heart and shed tears to bless us with selfless-seva for Hari-Guru. He will surely respond to our fervent cries,
आ जावो मम राजा राम, दे दो मोहिँ प्रेम निष्काम ।
O my dear King Rama, please come and bless me with selfless love
आजा आजा राजा राम, मन भाजा तन छाजा राम।
Please come O King Rama, and pervade in my mind, heart and soul
निज उर मोहिँ लगा जा राम, जीवन सफल बना जा राम।
O Rama, take me into your divine embrace and make my human birth worthwhile
बिगरी मोर बना जा राम, प्रेम पीयूष पिला जा राम ॥
O Rama become my saviour and bestow the nectar of divine love unto me
Wish you all an auspicious Navratri and a devotional New Year!
Recent Posts
वर्ष के अंतिम दिन हमको क्या करना चाहिये?
Who is goddess Durga? How should we worship her this Navratri?
'श्रीराम-नवमी' : भगवान् श्री रामचन्द्र जी का प्राकट्योत्सव
Suggested Books For the Month
Bhagavannam Mahatmya - The Glories of the Divine Name (English)
Radha Govind Geet – Radha Naam mahima - Glories of the Holy Name of Shri Radha (English)