Bhakta Prahlada – The Selfless Devotee
By Radha Govind Samiti

•

Mar 16, 2022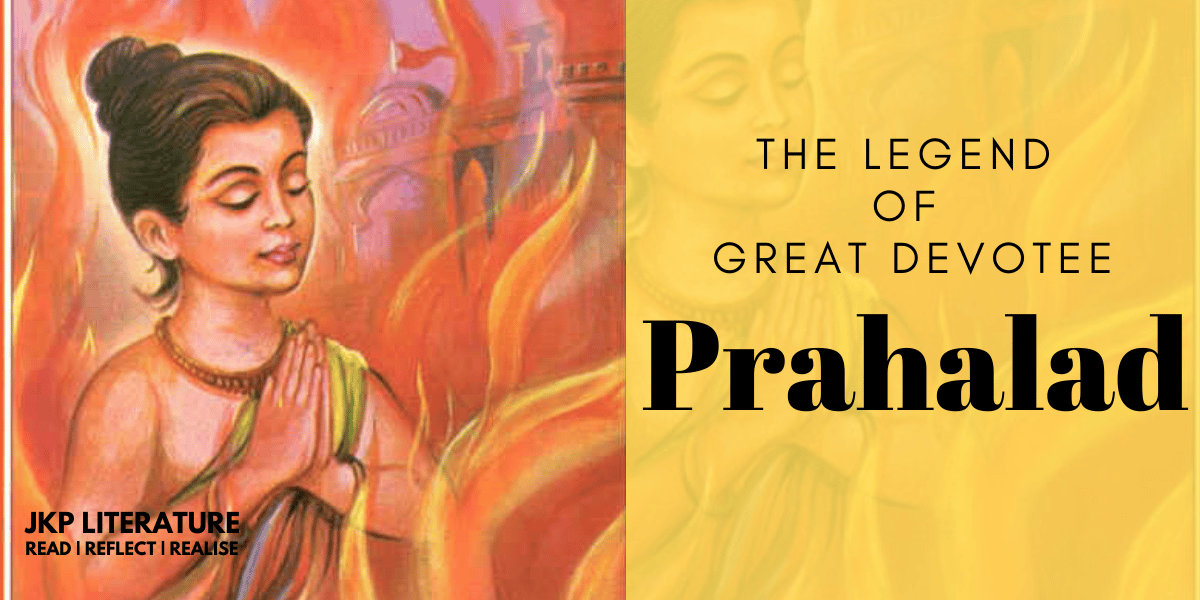 When you embark upon the spiritual path, one of the first lessons for an aspirant is to pursue devotion without any desires for material wellbeing. This is only possible when you convince yourself that there is no happiness in this world. A perfect example of such a devotee is Bhakta Prahlad, who left God speechless when the Lord prodded him for a boon. In Shri Maharaj Ji's words,
....You are attached to this world and are praying to God to fulfil your worldly desires because the decision that there is happiness in the world is still intact within you. Which means that you haven't even understood the first chapter of devotion that whether happiness lies in God or in the world. This preparatory lesson is still ambiguous otherwise, why would one ask God for material wellbeing. There is not even an iota of happiness in this world, therefore the stalwarts of devotion plead God for selfless devotion (Bhag. 7-10-7).
Prahlad says this standing before Lord Nrisimha when all other eminent personalities like Brahma, Vishnu, Shankar, Indra, gods, demi-gods, godessess, governers etc. were scared to face Him. None of them could gather courage to verbally express their gratitude towards Lord Nrisimha for having destroyed a seemingly invincible demon like Hiranyakashyapu. This included Lord Shankar who has the capability of reducing the entire universe to ashes with his third eye. He too backed out when everybody urged him to lead the contingent. Lord Nrisimha's flaring ginormous outburst of anger made even Lord Shankar tremble out of fear, he instead requested Lord Brahma to undertake the task, after all he is the Creator. He too retreated and turned over to Lord Vishnu to take control. None could brave this attempt. Seeing their predicament Prahlad offered to go ahead. The moment Lord Nrisimha saw the little child, all His anger vanished and He affectionately seated Prahlad on His lap, holding his feet with one hand and the other on his head. He then started to dance in joy. Now could the whole brigade of god and godessess approach God. They all started singing His glories.
After the celebration and dancing, Lord Nrisimha urged Prahlad to ask for a boon. When Prahlada heard that God wanted him to ask for a boon he was confused, and he thought to himself whether he still had any desires? Was he a beggar? He was a servant of God, his master. A servant is no servant at all if he demands anything from his master; a servant's only duty is to serve the Lord. So Prahlada politely refused, saying he is a servant and not a businessman who would expect something in return. Nevertheless God insisted, stressing that all devotees ask for something when He appears before them. Prahlada again clarified that he is the kind of servant who neither asks for anything, nor has he anything suitable to give. As God is ever blissful and content, even He does not desire anything.
Though surprised at the little boy's conviction, God still insisted that he should ask for a boon. Seeing God's persistence and realising that he was left with no choice, Prahlada then said, "Grant me a boon that I should never, ever ask You for anything and that my intellect should never have any desire at all."
Consequently, the all-powerful, almighty God gave up. God realised that day that He had encountered a true selfless devotee who would not budge from his resolve. Prahlada added that any desire in the mind causes the destruction of all noble faculties of man the strength of his senses, his mind, his vital energy and his body. Moreover, he loses his sense of righteousness, determination, understanding, fortitude, modesty, prowess, memory and adherence to truth. Once a desire arises, it makes a man insane. A man then resorts to telling lies and performing all sorts of sinful acts in order to fulfil his desire. Such are the perils of creating a desire.
The first and foremost condition for devotional practice is, thus, an aspirant should firmly resolve not to have any desire for his own personal happiness, only then will he be qualified to follow the path of devotion.
Suggested Books
Spirituality in Daily Living (Set of 4) (English)